history
It all started back in 1906…
The Portland Advertising Federation, or the PAF as we like to call it, was the first advertising club in the United States. Probably because Portlanders love to meet across a smokey brew pub table, or maybe because we just like advertising. No matter what, we have been meeting regularly for over a hundred years, and even though we are the oldest club in the nation our ideas remain fresh and members continue to inspire.
Take a walk through our history archive as we celebrate some of Portland, Oregon's agencies and brands that have shaped the world of advertising as we know it today.
The Portland Advertising Federation was founded by a group of Ad Men in 1906 in downtown Portland, Oregon. Some history blurb about this.
The Spotlight Newspaper, a weekly newspaper in the United States, published in Washington, D.C. from September 1975 to July 2001, shows the Portland Ad Group visiting the Oakland Convention on August 8th, 1917.
The President's Maiden Message, by W. S. Kirkpatrick:
The past year has been an epoch of making period in the affairs of the Portland Ad Club. But 1921 holds boldly as great a promise for accomplishment.
I have a few pet ideas I would like to propose:
I should like to see every disinterested member become interested.
I should like to see every inactive member become active.

An Expression From The Glee Club. Thanking the Portland Ad Group for their support and training. July 16, 1930. The Portland Advertising Spotlight Newspaper.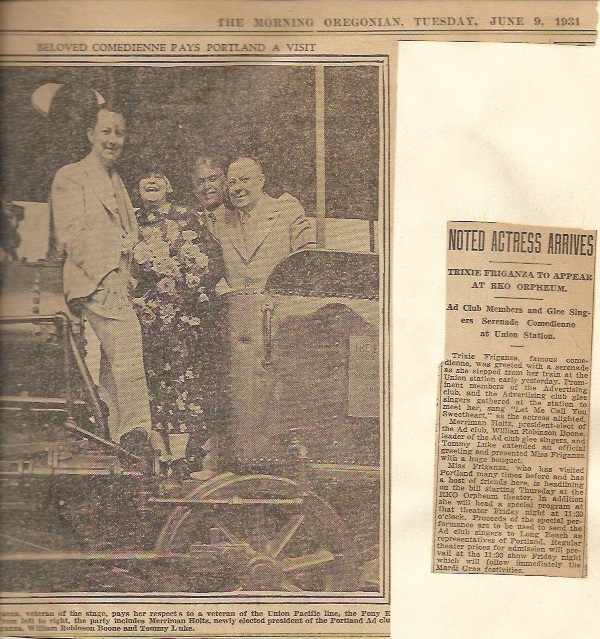 Beloved comedian, Trixie Friganza pays Portland a visit and is greeted and hosted by the Portland Ad Club Members and serenaded upon arrival at Union Station by the Portland Glee Club.
Oregonian Newspaper, June 9th, 1931
"When the Pacific Advertising Clubs Association holds its Thirty-first Annual Convention in Portland, July 10th to 15th, there will be assembled in Portland a group of men and women whose influence in business and government radiates to the highest and most important places…"
Spotlight, The Official Publication of the Advertising Club of Portland. June 27, 1934.
"The smash style of the season! See the Jantzen Beauties in person modeling; swimsuits, sun clothes, sweaters and ski clothes. Plus: A behind the scenes presentation of how Jantzen Looks at Advertising!"
Portland Advertising Club Presentation by Jantzen Clothing. AD-VANCE Newsletter, May 4, 1949.
"Don't miss the first meeting! It's a Fall Fashion Prevue From Limpan's! Yes Dorothy Day - Lipman's Fashion Coordinator presents to the Ad Club an advance look into the Rose Bowl."
Lipman's Portland Ad Club Presentation. AD-VANCE News from the Oregon Advertising Club, September 6th, 1950.
In 1973, in addition to the club's Advertising Man of the Year award, an Advertising Woman of the Year was also selected. Isabell Hoyt from KATU had the honor of being the first women to be chosen.
This image, of Ad Man and Ad Women of the year 1975 shows award recipients Richard C. Babb and Sally Goswell.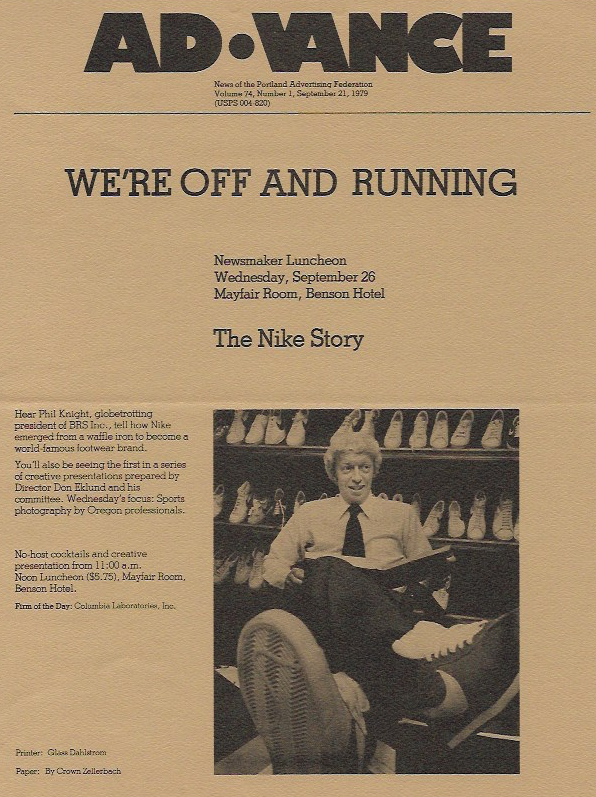 "We're off and Running. The Nike Story.
Hear Phil Knight, globetrotting president of BRS Inc, tell how Nike emerged from a waffle iron to become a world-famous footwear brand.
Nike presentation for the Portland Ad Club. AD-VANCE Newspaper, September 21st, 1979.
"The importance of advertising in improving the environment in which we live cannot be understated. Advertising is a means of letting the public know of new products and services. Further, it provides an effective avenue for addressing significant issues."
A letter to the Portland Ad Club. Vic Atiyeh, Governor for the State or Oregon. Salem, 1984.
Rosey Award Winner: Outdoor Transit
Nike.
"Take This Shoe and Jam It."
Agency: Weiden & Kennedy
Weiden & Kennedy Gets Ad Age Award.
"After forgoing the selection of an American agency of the year for 1990, Advertising Age has named Weiden & Kennedy of Portland, Ore as the agency of the year for 1991."
New York Times, April 14 1991.
Rosey Award Winners: Outdoor
Burgerville.
"You Will Eat At Burgerville."
Agency: Sandstrom Design
Rosey Award Winner: Consumer Magazine
Columbia.
My Mother Makes Combat Boots.
Rosey Award Winner: Poster
Leatherman.
"Normally We Make Your Life Easier, Except This Once: Choose."
Agency: Sasquatch Advertising
Rosey Award Winner: Outdoor

Danner.
"Because The Law Says You Can't Shoot From Your Truck."
Agency: Robbey Marketing
Rosey Award Winner: Outdoor
TriMet.
"to Work. to Play. to Live"
Want to add to our archive? Have some historic ads or news to share. Please send them through and we will get them added to our Portland Ad Fed History timeline.